Walhalla ll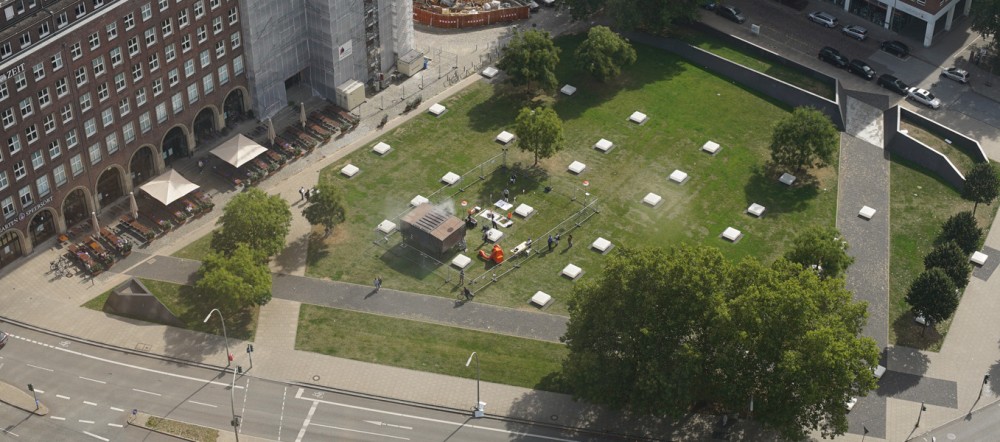 "Walhalla 2 is the glaucoma in the eye of discipline. One must seriously ask why large portions of the archaeological community have been dealing with a construction for years, the existence of which cannot be definitively clarified and which, whenever it does appear on the scene, sows discord and unrest." - Johanna Clairmont, Archaeologist.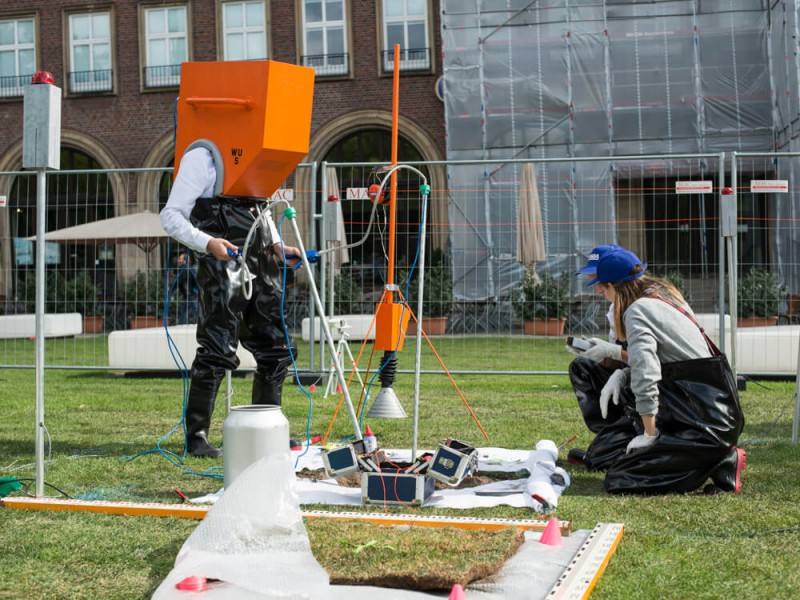 WALHALLA 2 is a monument that will have existed. A place that has become plausible through the tendencies of the present - speculative archaeology and the exploration of a possible era. Between September and October 2018, archaeological excavations were carried out in the public urban spaces of Hamburg and Berlin to recover documents, remains, parts of ruins, and evidence of a future WALHALLA 2 monument. Traces, gaps, and variations of a history yet to come.
"Leni Riefenstahl would have been thrilled!"
taz, die Tageszeitung, Robert Matthies
The artifacts of a speculative future were made accessible to the public through two special exhibitions in Hamburg and Berlin. For two weeks, the Dokumentationszentrum Zukunft presented the spectacular findings in Hamburg and Berlin under the title 'THE FUTURE WAS MIGHT BE CONFUSING'.
"And then suddenly I couldn't see anything at all except for an endless wooded landscape, in which, please don't ask me why, I immediately recognized the Taunus. The Taunus with its gentle hills and the mobile phone towers rising up between them like field markers. And then, slowly forming out of the treetops, a sign: 'WALHALLA. WE THANK YOU FOR YOUR EXPERIENCE,' and then the space around me dissolved, and I was back where I had started."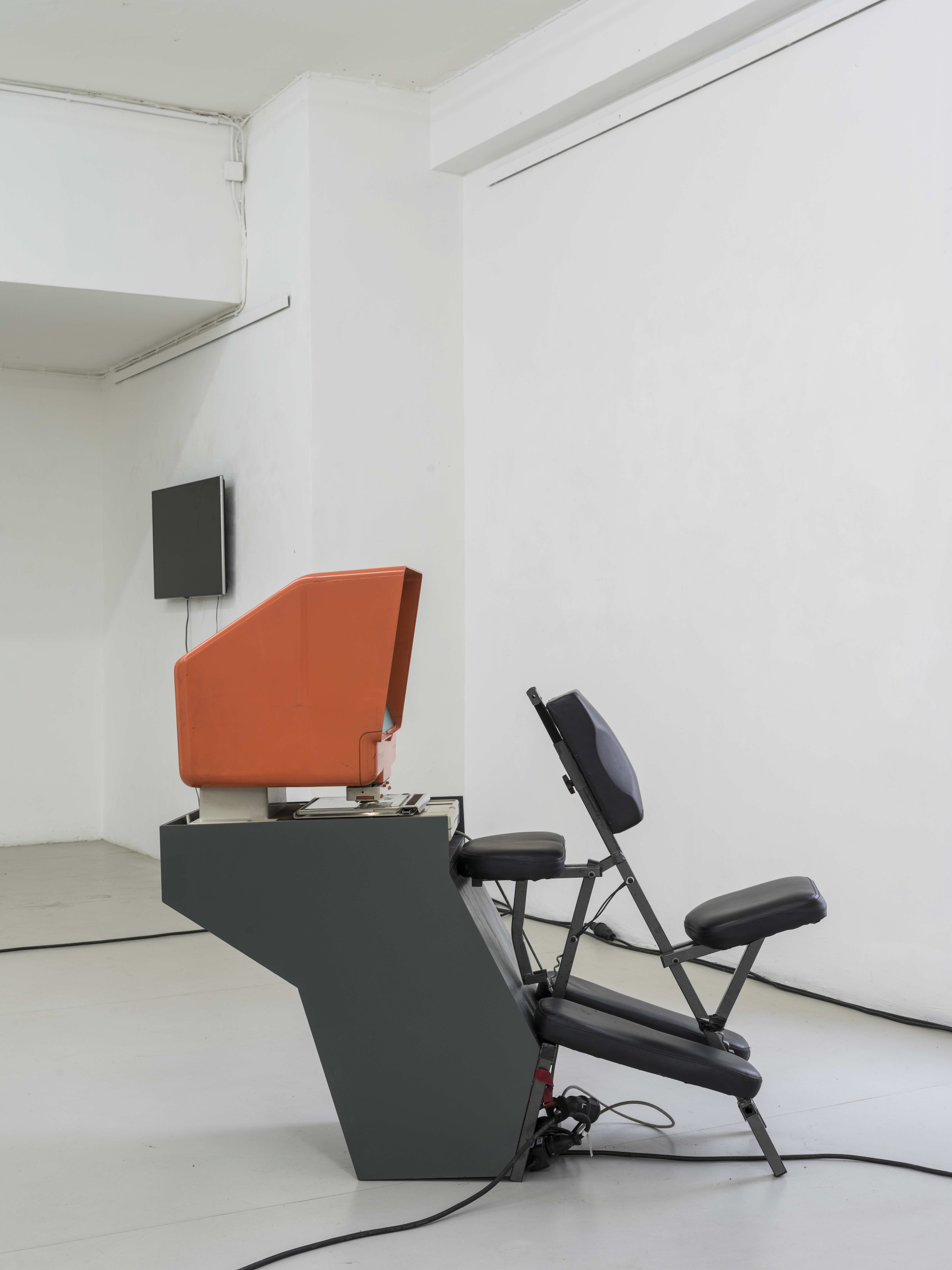 The special exhibitions promise an exploration of what is to come, an empathetic engagement with the possible, and a critical reflection on an era that some are still awaiting, that some yearn for, and that others will dismantle. How responsible is aesthetics, and how powerful are documents, witnesses, and imagination? With Walhalla II, the question arises whether speculative archaeology is capable of entering a disruptive relationship with reality. The Documentation Center responds to a political practice that constantly generates new echo chambers based on fictions.
"The monument that I intended to erect, or that was suggested to me through the imagination in the pigment chamber, was supposed to be situated in a very specific way BEYOND ALL IMAGINATION. So when I say it should be grand, I mean something fundamentally different from what could be expressed in meters, tons, and so on. It was clear to me from the beginning that the monument to be erected had long freed itself from material constraints and, by its very existence, was telling the story of that liberation, a kind of expression of a DENKMALTECHNISCHE TOTALENTFESSELUNG extending far into the future."
"We are pleased that archaeological research in Germany is now enriched with a new perspective through the Documentation Center for the Future." - Prof. Dr. Rainer-Maria Weiss, State Archaeologist and Director of the Archaeological Museum Hamburg.
Team
Excavation management, concept, artistic direction, and curation: PARA.
In cooperation with: Hans Martin Schlesier (Popticum), Holger Fröhlich, Julia Lauter, Philipp Meuser, Øystein Aasan, Peter Behrbohm, Samantha Bohatsch, Lena Marie Emrich, Zuza Golinska, Marie Köhler, Gregor Rozanski, Karoline Schneider, Sarah Besch, Daniel Degeest, Josema Enriquez, David Gómez, Raha Emami Khansari, Andrea Krohn, Klara Oehler, Anselm Schenkluhn, Friederike Schneider, Alyssa Marie Warncke, Emma Adler, Felix Becker, Ruben Beider, Markus Bühler, Georg Bütow, Thomas Leo Chapman, Cora Guddat, Albert Herrmann, Rike Horb, Julie Legouez, Brian Karp, Niels Pegel, Diane Penrad, Anton Steenbock, Jacob Steinfelder, Kolja Vennewald, Leon Lechner, Janine Meißner, Maria Kusche, Florian Fink, Walter Habrich, Melanie Marten, Bettina Freimann.
"Three-dimensional reconstruction of the so-called vacuum cleaner particles yields an unclear result: R. Foot of a man (?), sandal sole and toes roughly worked, fine lines visible on the instep under sharp oblique light (tattoo?), ILLEGIBLE, ILLEGIBLE, possibly a cast for study purposes or simply an accident, although the size of the particles speaks against this (almost dust-like). The suction device itself, however, is still fully functional, always following the same path (a brilliant idea by the student assistant to extract geodata and thus reconstruct the original space reveals incredible findings, a previously unknown chamber (office) somewhere in the annex of the complex, why can't one come up with something like that oneself?). The robot calmly continues its rounds as I write, somehow touching, ILLEGIBLE, ILLEGIBLE."
Finding #24.
Funded by
Hauptstadtkulturfonds, Künstlerhaus Sootbörn, Domplatz Hamburg und der Hamburgischen Kulturstiftung
in Kooperation mit dem Archäologischen Museum Hamburg und dem Landesdenkmalamt Berlin